Your support can transform the way we prevent, detect and treat skin cancer.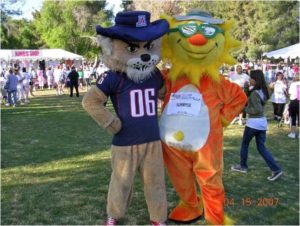 Last year's funds:
Supported research to develop new strategies for prevention, detection and treatment of skin cancer
Provided community outreach in sun safety and skin cancer education
Increased education at Tucson schools through Project SASS (Students are Sun Safe)
Extended our 'Protect Your Skin' program across Arizona. You can help spread the sun-safe message! Find out how to purchase the Protect Your Skin kit for your company or organization!
All tax deductible donations can have an impact!
Contribute to the SCI Fund — $50
Provide sunscreen stations for FOUR separate outdoor events — $100
Donate a Protect Your Skin Kit to the organization of your choice– $250
Provide TWO community presentations about skin cancer prevention — $300
Supply 10 gallons of sunscreen to protect people at local outdoor events — $500
Deliver 1,000 sun-safe activity books to children in the community — $750
Adopt a school/organization for a Project SASS Presentation — $1,000
Advocate for skin cancer prevention and become an SCI Champion — $5,000
The Skin Cancer Institute operates purely on grants and donations from members of the community like you. We truly appreciate your support!