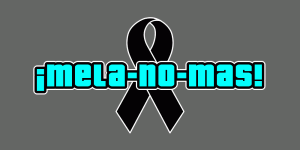 Our Team Fundraising Goal is $250.00! So far we have raised $745.00!
I was diagnosed with Stage 3b Melanoma in September of 2009. I have been through 4 surgeries, a year of interferon therapy (an immune system treatment with side effects similar to bad flu) and am now participating in a clinical trial. I have had two recurrences of Melanoma which showed up as tumors in my back. I am currently cancer free, but there is no guarantee I will stay that way. I am walking for myself, and my husband's cousin, Clint Smith, who lost his battle with Melanoma in 2008. I also walk for my children, who now have melanoma in their medical histories on both sides of the family.
Someone dies every hour from melanoma. Over the past 30 years the number of new cases of melanoma, the deadliest form of skin cancer, has more than doubled. Please support Melanoma Walk 2011. Proceeds from the 1.5 mile walk stay in Arizona and will support melanoma research, patient care, community outreach and education.
Our team includes:
Daniel Bishop
Joey Bishop
Marie Daugherty
Christopher Douglas
Ian Douglas
James Douglas
Patricia Douglas
Melissa Fosnight
Christal Hamann
Thelma Libby
Mary Lucas
T.J. Orr
Kevin Phillips
Sarah Phillips
Allison Poling
Matt Poling
James Rohret
Karen Rohret
Molly Schiffer
Amanda Iverson
Karen Mattull
Anne McGregor
Trish Janders
Team Leader: Martha Bishop
To spread the word about your new team, please use the social media buttons below. Or if you would like to share it by email, please copy the url of this page.